The Colorado Poet Issue #31
Two Interviews with CPC Poets Jen Stewart Fueston and Susan Tichy
Updates and News about Readings and Poetry Awards
The Poetry in Remembrance of the Holocaust Poetry Reading was a wonderful event on January 27, 2022.  Here is the link to the reading,  hosted by CPC poet, Judyth Hill. Thank you Judyth Hill, Art Goodtimes, David Rothman, Linda La Rocca, Jeffrey Ethan Lee, Robert Cooperman, Natalie Giarratano, Gail BenEzra, and Lorrie Wolfe for reading.  Please share the link.
Update on Recent CPC Activities
Virtual Poetry Reading: Poetry in Remembrance of the Holocaust, January 27, 2022.
Live Poetry Readings at the Boulder R Gallery and Wine Bar:

Jen Stewart Fueston, January 18, 2022
Kathryn Winograd and Jeff Franklin, February 15, 2022
Eleanor Swanson, March 15, 2022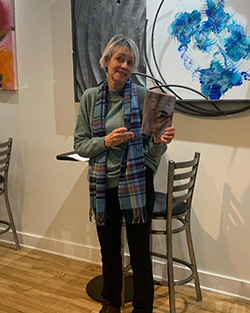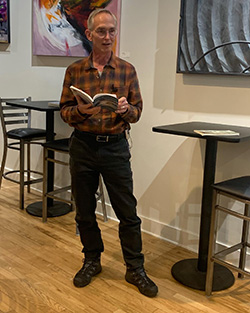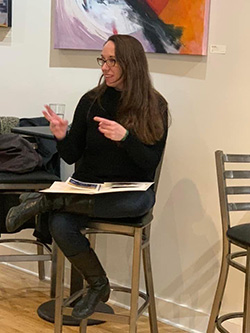 Kathryn Winograd will interview two CPC poets for each issue of The Colorado Poet.
The Colorado Poet will publish the title of all books and chapbooks recently published by CPC poets.  Please send the book titles, publishers, and dates of publications of your books and chapbooks to Beth Franklin at franklinbeth1309@gmail.com.
Please help us identify new poets for the CPC. Have new poets contact Beth Franklin and she will send the guidelines for  how to submit their documents.
Future Readings at the R Gallery and Wine Bar in Boulder
April 19, 2022:  Carol Guerrero Murphy and Michele Battiste
June 21, 2022: Aaron Abeyta
News
Wendy Videlock will be hosting a three-part virtual series, Poetry and her Various Disciplines, over the summer.  Stay tuned for more details.
Serena Chopra will be hosting a virtual LGBTQ poetry reading in September.  Stay tuned for more details
Robert W. King Poetry Awards for High School Students in Greeley and the San Luis Valley will be given May 15, 2022. See the CPC website for more information.
DONATIONS TO THE COLORADO POETS CENTER
PLEASE CONSIDER MAKING A DONATION TO THE CPC TO SUPPORT THE WORK OF OUR WEBMASTER, POETRY READINGS, POET INTERVIEWS, AND THE ROBERT W. KING AWARDS. HERE IS THE  DONATION LINK ON THE CPC WEBSITE.  THANK YOU !!!!!
https://coloradopoetscenter.org/index.html