Boulder R Gallery Readings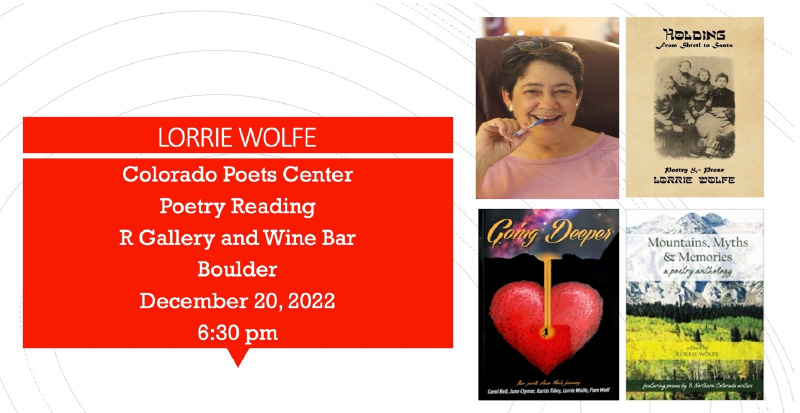 Live Poetry Readings at the Boulder R Gallery and Wine Bar
Lorrie Wolfe: December 20
Val Szarek: January 17
Crisosto Apache: January 17
If you are interested in reading at the R Gallery in 2023, please let Beth Franklin know.
LGBTQ Poetry Webinar Link
The LGBTQ Poetry Reading hosted by Serena Chopra took place on September 29, 2022
The Poetry Reading can be viewed on the CPC website
DONATIONS TO THE COLORADO POETS CENTER
PLEASE CONSIDER MAKING A DONATION TO THE CPC TO SUPPORT THE WORK OF OUR WEBMASTER, POETRY READINGS, POET INTERVIEWS, AND THE ROBERT W. KING AWARDS. HERE IS THE  DONATION LINK ON THE CPC WEBSITE.  THANK YOU !!!!!
Contact Colorado Poets Center
Beth Franklin (franklinbeth1309@gmail.com)
Board Members
Beth Franklin, President/Secretary
Lawrence King, Treasurer
Aaron Abeyta
Uche Ogbuji
Rosemerry Wahtola Trommer
Newsletter Poet Interviews:  Kathryn Winograd
Webmaster:  Jesse Clark