The Colorado Poet, #16, Fall 2011
THE SLOPE: A Lyric Scan Beyond the Front Range (Art Goodtimes, 2011 Western Slope Poet Laureate)
SUMMER INTO FALL … It's been a good season for poetry. Grand Junction held its first writers conference, the second poetry gathering of the year on the Slope – following six months after the Karen Chamberlain Poetry Festival in Carbondale … Colorado Poet Laureate David Mason made good on visiting the Slope outliers per his promise to visit all 64 of Colorado counties … John Nizalowski does a new book reading … Valerie Haugen of Marble does a night of poetry… David Feela and I fight it out in Cortez … Long Beach poets tour the Four Corners states and hit the Slope for several readings.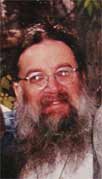 LANGUAGE OF THIS LAND … Slope poet Frank Coons writes: "We came from other places, other times / all at a crossroads, a junction" … A generous mix of human traditions is perhaps the greatest beauty of the Grand Valley, beyond its Book Cliffs and National Monument. Grand Junction, the Slope's queen city, is on a major national east-west trail. Commerce moves along its highways and rails, as well as its busy Walker Field … Geographically, it's the northernmost reach of the Southwest's Colorado Plateau in our state. Ecologically, many southern species flora and fauna thrive here, but no further north … Having been through energy's boom and bust more than once, Grand Valley seems infused with a new spirit. Mesa State, under President Tim Foster, has changed its name (yet again), as if the community were still searching for a sustainable vision of itself. Colorado Mesa University certainly sounds more prestigious and serious. If growth is still coming to this state (and it's hard to see us as a nation denying ourselves anything), much of its Western Slope swagger will come through "Junction", as most locals call it … Maybe nothing more dramatizes this renaissance than cultural richness. So it wasn't a surprise that the newly-formed Western Colorado Writers' Forum kicked off their first writers conference, The Language of This Land. They chose a goal of fostering "a dynamic literary and writing community that advances the cultural life of Western Colorado" … But the gathering wasn't just about writers. Although MacArthur awarding-winning Native-American author Leslie Marmon Silko and Colorado Poet Laureate David Mason both read, and dozens of us lit types gave various workshops and readings, the core of The Language of This Land for me was hearing the oral stories from elder members of this crossroads community … Wisely, organizer Sandra Dorr, invited speakers from many different local traditional groups to be presenters.
FIRST PEOPLES ... Ute "historian" Clifford Duncan – a much respected tribal leader and storyteller – spoke about the removal of his people from the Grand Valley, though without bitterness, and commented lyrically about his own upbringing, including a stint at a BIA Indian school where he was punished for speaking his language. But, as an elder now, he also spoke to us in Ute, as well as translating – so we could hear the timbre of his Uto-Aztecan tongue and still understand its meaning … Most interestingly, he put to rest certain historical misconceptions … Chief Ouray was only chief because the assembled Ute leaders in DC thought the government wanted to know whom their translator was (not the head chief to sign treaty documents) … Chipeta, Ouray's second wife, was a Kiowa survivor in a camp raided by the Utes ...The Utes never called the Rockies "The Shining Mountains" – that's a Whiteman's fiction … And their name for the Uncompahgre was Davi ("sun") + watch ("those that live in"), since the Uncompahgre Valley and the Uncompahgre Plateau were so much warmer than the Rocky Mountains … We get the word "Uncompahgre" from a corruption of the Ute phrase: edká ("red") + bahahree ("lake, pond"), and it referred to the iron fens below Red Mountain up in Ironton … Duncan also spoke about the importance of keeping language and culture alive. He received a standing ovation both before and after his speech.
FRANCES WHEELER … From her wheelchair, 93-year-old Frances May Dorr Wheeler – Grand Junction's Rhymester Laureate -- recited several of her "cowboy" pieces from memory: "The difference," she explained most lucidly, "between poems and rhymes is that everyone can understand what a rhyme means" … Her sister Helen also read a rhyme from memory.
GRAND VALLEY ELDERS … Grand Junction-born Josephine Dickey spoke about Handy Chapel, and the hundred-plus years of African-American community presence in the valley. Al Grasso spoke of the Italian-American heritage in stone masonry construction there. One woman read an account of a Japanese-American hero from World War II living in the city. Another woman talked of the Basque-American heritage in Grand Junction and all over the Western Slope. Jose Lucero spoke to the Hispanic-American legacy of over 300 years in the region. The local attorney who bought the church where the conference was headquartered addressed the serendipity of his ownership and restoration work … For all the wonderful literary connections and marvelous new writers and old friends I met at this ground-breaking event, the stories of the elders from the community were easily the weekend's most moving moments.
DAVID MASON … Professor at Colorado College, as well as prize-winning poet, essayist, writer of libretti, and former Fulbright scholar, Mason was named Colorado's sixth poet laureate by Gov. Ritter last year. He came to the Slope for readings and workshops in Ridgway, Ouray, Telluride, Aspen and Grand Junction. All were well-received, as was his Australian traveling mate – a fine poet herself – Cally Conan-Davies.
JOHN NIZALOWSKI … A professor at Colorado Mesa University, Nizalowski celebrated the publication of his new book, The Last Matinée – originally scheduled with Wild Embers Press in Taos, but eventually published by Turkey Buzzard Press in Denver – with a poetry reading at Planet Earth & the 4 Directions Gallery in Grand Junction this summer. To learn more, visit
http://www.gjfreepress.com/article/20110722/ENTERTAINMENT/110729981
VALERIE HAUGEN … The dramaturge of the Thunder River Theatre Company and a fine poet who hosted the Karen Chamberlain Poetry Festival in Carbondale earlier this year, Haugen did a one-woman fall show, performing poetry, called "The Healing Power of Art" … Debra Winston wrote on Facebook, "A fantastic night of poetry last night -- I'm so glad I got to see it. Haunting phrases, funny images, a complete performance. Bravo!"
SHARK ATTACK … Retired high school English teacher, columnist and Montezuma County poet David Feela and I read at Sprucetree Coffeehouse in Cortez this fall, calling it "Shark Attack" … Feela's wry sense of humor got the roomful of local folks laughing as the two poets traded poems – tit for tat.
OUTLAW POETS … The tiny Slope town of Norwood got to host two poem-packing street poets from California's Long Beach on the first leg of their Four Corners tour. A self-styled "outlaw poet", RD "Raindog" Armstrong -- author of Living Amongst the Mangled (Lummox Press, 2010) – promoted his anthology in honor of Outlaw Poet Supreme Todd Moore. His tour partner, G. Murray Thomas, got everyone laughing both in Norwood and later in Telluride, where the duo did a second gig at the Wilkinson Library. Murray was more of a surf poet, and had an anthology of surf poems that he read from. He's the author of My Kidney Just
Arrived (Tebot Bach, 2011)