The Colorado Poet, #18, Spring 2012
Inside this Issue:
THE SLOPE:
A Lyric Scan Beyond the Front Range
By Art Goodtimes
2012 Western Slope Poet Laureate
NATIONAL POETRY MONTH … Lots of good energy all over the region. The Grand Junction Sentinel has been publishing poetry in its weekend edition. And the Telluride Watch has been doing poetry each week in April. I also publish a Talking Gourd poem in each weekly issue of the Watch, associated with my column, Up Bear Creek. Haiku by Erika Moss Gordon of Ridgway were among the first poems featured. The Watch can be accessed on-line at www.watchnewspapers.com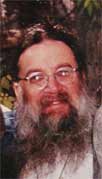 (Art Goodtimes)
KAREN CHAMBERLAIN … Folks from all across the Western Slope flocked to Carbondale's Thunder River Theatre Company March 30-April 1, where Valerie Haugen and Lon Winston organized the second annual Karen Chamberlain Poetry Festival. Bards from all over the Western Slope dazzled audiences with riveting performances by Aaron Abeyta of the San Luis Valley and Bob King of Greeley's Colorado Poets Center, Pike's Peak Poet Laureate Jim Ciletti, Seth & Collette of Denver with their "Triangle Man", the soft-spoken warrior Janice Gould, the well-played David Rothman, Grand Junction's Wendy Videlock, Fruita's Danny Rosen, the incomparable Jack Mueller of Log Hill Village, Uche Ogbuji, Kit Muldoon, Stewart Warren, Chris Ransick, David Mason, Carol Bell, Debbi Brody, Rachel Kellum, Julie Cummings, Eric Walter, Hildegard Guttendorfer, Western State's WordHorde, Francie Jacober, Kit Hedman, Kim Nuzzo, John Macker, Celeste Labadie, Peter Anderson, L. Luis Lopez, Sandy Munro, the River City Nomads and more … As one front-range poet commented in an email afterwards, "By the way, I think you western slope poets are miles ahead of us all here, community-wise, public poet-wise, and the way you bond and support one another. I wish I lived over there."
MOUNTAIN GAZETTE … After talking over as editor of the Mountain Gazette's poetry page, I renamed the feature, The Way of the Mountain – honoring the late mountain guru Dolores LaChapelle, who spoke admiringly of bardic poetry as an essential path leading us back to the natural world from out this technological human-built world. She was the inspiration for the Talking Gourds poetry festival and the gourd circle technique for sharing poetry. Given the limited space, I've been soliciting short short poems with a zen wallop (nor more than 7-8 lines max). Visit www.mountaingazette.com
ELLEN MARIE METRICK … San Miguel County's second poet laureate (following in the footsteps of Rosemerry Wahtola Trommer), who lives in Norwood, has published a new book – Teasing out the Divine (Mercury HeartLink, www.heartlink.com, 2012). Amy Irving McHarg, author of the celebrated Trespass wrote of Ellen's book: "It is usually the work of shamans to carve the symbols that delve deepest into the psyche – as in the cave paintings of the paleolithic. To bear witness to this kind of record is to flay open the heart, alchemize the imagination. In Teasing out the Divine, Ellen Metrick has offered up her pen to service to this task, articulating the ineffable so that we may plumb the caverns within. Such expressions are the most vital and sacred of art forms – those that inform both the animal body and the soul."
BLUE SAGE ANTHOLOGY … The Blue Sage Center for the Arts in Paonia has announced the winners of its annual Write On! Prose and Poetry Contest. The winner were chosen to appear in the fifth annual Blue Sage Anthology to be published in June. Winners were Megan Bell "The Visit", "The Memory Tree", "Rim Rider"; Karen Cline "Ballad of the Pirate Queen", "Nascence"; Arlyn Deva "Confusion", "Acoustical Reality"; Karen Fogg "Early Morning"; Karen Gallob "Instinct"; Tanya Gallob "Untitled"; Kyle Keele "He Called Me Son"; Carol Kwaitkowski "Mother Natures Cupboard: Desert Vistas"; Dinah Lindarin "Awakening"; Kay Lindsey "Edges"; Marion Stewart "Ambiguity", "A Knowledge of Falling Leaves"; and Tom Wills "Worst Case Scenario", "A Dime, Economically Speaking", "Tornado Kisses."
WORD SHARKS … The Spruce Tree Coffee House in Cortez has sponsored several Word Sharks readings by local poet David Feela and yours truly. For more info on readings there, visit http://sprucetreecoffeehouse.com
BETH PAULSON … One of Ouray's most prominent poets, Beth Paulson gave a poetry reading April 10 at the Montrose Library with selections from her latest book, Wild Raspberries (Plain View Press, Texas, www.plainviewpress.net, 2009)
ROSEMERRY WAHTOLA TROMMER … Active all over the region, Rosemerry continues to give workshops, particularly for her new book, The Miracle Already Happening: Everyday life with Rumi (Liquid Light Press, 2011). See story at http://marketplace.telluridewatch.com/view/full_story/17376639/article-Rosemerry-Wahtola-Trommer-on-Life--the-Universe--and-Rumi?instance=storybullets2
TALKING GOURDS … A group of Telluride non-profits associated with the literary world have generated an exciting new monthly reading series called Talking Gourds. An open mike at the Wilkinson Library is followed by a featured reader. The series is video-taped and live-streamed both on the web and to neighboring libraries through the local community television station. Featured poets so far have included Ellen Marie Metrick of Norwood, Danny Rosen of Fruita, Kierstin Bridger of Telluride,
GOURD CIRCLE … Ellen Marie Metrick continues to do a weekly Gourd Circle poetry reading series sponsored by ACE of Norwood at the Livery. Featured readers have included Eric Walter of Portland (OR) and Ruth Duffy of Nucla.
WESTERN SLOPE WRITERS FORUM … In its second year, the Forum has hosted a second "Voices of the Grand Valley Workshops, published their weekly "Out and About", hosted a daily radio program on KAFM and bi-monthly programs on KKCO, and posted works on Main Street. In July, the Forum will acclaimed translator Daniel Ladinsky and regional poet Rosemerry Wahtola Trommer for "Pour Light into Your Cup," celebrating the works of Rumi and Hafiz. To learn more visit www.westerncoloradowriters.org
MARK FISCHER PRIZE … TelluArts sponsored the 14th annual Mark Fischer Poetry Contest. This year's judge was Kirstin Bridger … The prize is named in the memory of Telluride's much-loved poet, lawyer, skier and raconteur. Mark Fischer was a daring experimenter who combined a polyglot's command of languages with a quirky sense of humor and a passion for obtuse words. In that spirit, prizes will be awarded to the entry that best exhibits the qualities of originality, novelty, complex meaning, linguistic skill and wit. The wilder the better … Awards of $200 first prize, $ 150 second prize, and $100 third prize, and $50 honorable mention will be presented at a celebratory reading in Telluride in May.
POETRY VENUES …In Telluride: the Wilkinson Library, Between the Covers Bookstore and The Steaming Bean Coffeehouse. In Aspen, Hotel Lenado. In Grand Junction, the Art Center and Planet Earth and the 4 Directions Gallery. In Montrose, the Montrose Library. In Norwood, ACE's the Livery. In Cortez, Spruce Tree Coffeehouse. In Ridgway, Cimarron Bookstore and Coffeehouse. In Naturita, the award-winning Naturita Library. In Durango, Maria's Bookstore. In Carbondale, the Thunder River Theatre.
HELP … Anyone able to write a couple paragraphs on what's happening with poetry in your Western Slope community, please send them to me at gourds@paleohippie.com.