The "Formalish," "Nonce," and "Genre-bending": Reconciliation in the Creative Work of Poet, Author and Artist Wendy Videlock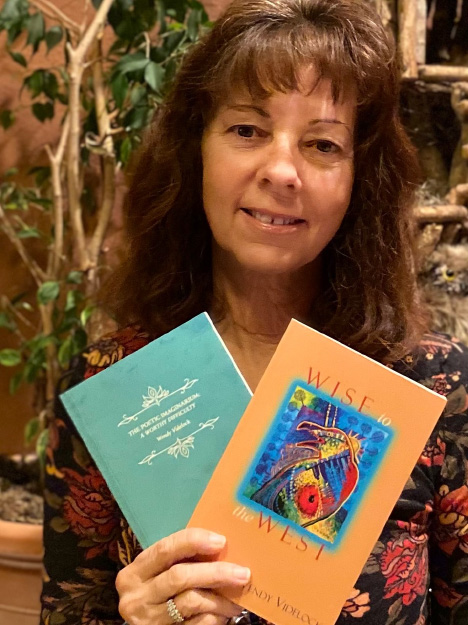 Wendy Videlock lives on the western slope of the Colorado Rockies. Her work appears widely, most notably in Hudson Review, Best American Poetry, Hopkins Review, Rattle, Oprah Magazine, and other venues. Besides her two newest books, Wise to the West (Able Muse Press) and The Poetic Imaginarium: A Worthy Difficulty (Lithic Press), Wendy has published three other poetry collections with Able Muse and a chapbook with Exot Books. Wendy is also a visual artist, with work exhibited in many western galleries. Bob King, the founder of CPC, interviewed Wendy back in 2012 about her then upcoming chapbook.
KW: You have two books coming out: one from Able Muse Press— a full collection of poetry, Wise to the West— and another, a hybrid "haibun" of essay and poetry, The Poetic Imaginarium: A Worthy Difficulty, from Lithic Press. Can you tell us about both of your publishers? Were your projects something that you queried the publishers with first or did you simply submit the finished manuscripts to each cold turkey? Publishing two books at the same time is rare and wonderful, but, certainly, must make it a challenge to get the word out on both books. Marketing is hard enough with just one book! How are you navigating getting your books out into the world?
WV: Actually my relationship with Able Muse Press goes back a long way. The editor, Alex Pepple, has supported my work for years, publishing three of my earlier books: Nevertheless, Slingshots & Love Plums, and The Dark Gnu, an illustrated children's book, and now Wise to the West, which officially launched this week. I'm fortunate— AMP is a great small press and they do a lot of promotion for me, book launches on zoom, solicited reviews, etc. Able Muse was born of the online poetry workshop, Eratosphere, which was, many years ago, instrumental in deepening my understanding of verse-craft, and of publishing. As you might know, it isn't always easy to publish poems that mete and/or rhyme, though the times seem to be slowly changing on that.
My other new book, The Poetic Imaginarium: A Worthy Difficulty, is published by Lithic Press, which is a newer local publisher out here on the Western Slope in Fruita. The subtitle is from a Pinsky commencement speech, in which he urges graduates to pursue a life long, worthy difficulty. The Poetic Imaginarium blends together many genres as you note, from lit crit to memoir to creative non-fiction, to promismetra --and even includes some of my visual art. It's an attempt, not just at integration, but reconciliation, an exploration on creative process, creative people, language, poetry and landscape— and the relationship between them all.
Both publishers have been very generous. I've done a good deal of readings and presentations of both books in the last several months, and I think the pandemic was useful in one way at least: it seems to have made people more likely to buy books during poetry readings. About marketing both books: It's actually been easier on me to combine both books into my readings and presentations. I do wish there were a better metaphor for killing two birds with one stone...if anyone out there knows of one, let me know, please! About writing both books: both were written over the course of several years. The lockdown was actually useful in terms of my meeting my own self-imposed deadlines.
KW: I used to hear how difficult it is to publish a hybrid or cross-genre book, but a quick google tells me how times have changed! But The Poetic Imaginarium: A Worthy Difficulty, is a bit of a different animal because it 's not just coupling fiction and creative nonfiction, for instance, but entwining critical essay, review, memoir, art, and poetry. Essays in your book like "The Language of the Land: By the Light of the Moon" riff on the haibun, a beautiful Japanese form that pairs prose with haiku, but I say, "riff," on purpose, because the haibun isn 't usually associated with a critical essay intersected by poetry! How did you come to create this kind of book and this hybrid form for the book? I am wondering if it might have something to do with what you said about poetry in an earlier interview with Bob King about your first chapbook, What 's That Supposed to Mean? on the brevity of your poems:" the more we carry on about a subject, the more likely we are to lose its essence."
WV: Yes, genre bending is no longer considered taboo, thank the gawds. Some years ago I'd realized that many of my poems, brief as they are, seem to really resonate in all kinds of shifting contexts, so prosimetrum was something I set out to explore.( Prosimetrum is just the fancy western term for an old eastern tradition known as haibun. I love reading verse interspersed with prose, so though I'd try my hand. Haibun were traditionally associated with travel writing, but didn't have to be. Because so many of my poems are short I think they lend themselves pretty handily to the genre. ) I'm also exploring the meme. I think the meme is a tragically missed opportunity (much like most developments of social media) to publish or present verse or short poems or even brief passages of poetry to the general public. Paired with a simple image, the practice can be beautiful, or disturbing, or poignant, or stunning when it appears on the typically mundane social media newsfeed. I don't mean the feel-good Hallmark style we generally see, (though there's a place for that too), but a poetry that surprises and delights -- a poetry that reflects the complexity and beauty and challenges of being human. This too is from an old tradition -- originally I think from the Chinese, whereby one sumi brush-stroke is paired with something akin to a haiku.
KW: More often than not, your widely admired poems have had some semblance of the word "formal" attached to them. For instance, International Poetry describes your "deft use of metre." There are contemporary poets like Annie Finch and, before her, New Formalists like Brad Lighthouse, who cuffed it out once with "free-versers," who have long advocated for meter and form, but free verse has been pervasive in creative writing programs and literary journals since the rise of modernism in the 20th century. What gives? Who were the root poets who steered you in this direction? What does that element of formalism bring to your poetry-making that free-verse does not?
WV: Sonics and rhythm and a sense of movement is central to my process, for sure. Any given poem I write begins with a sensation and a sense of motion, a sense of something moving. And poems, of course, are designed to move, are designed to move us. So I begin with motion and then allow that rhythm to help me find the poem's way. Some years ago an old poet friend, Jack Mueller, dubbed my work formalish, and it really resonated. I tend to avoid identifying too much with any particular school, as it begins to feel reductive. I love playing with form and meter and rhyme, and even more, I enjoy creating nonce forms. Because I enjoy incantation and mesmerizing, memorizable poems, I'm naturally drawn to verse that isn't afraid to be musical or muscular or complex and beautiful. I suspect modern poets do themselves a disservice by disregarding the legacy of prosody in English verse. It does wonders for breaking us out of our minds and into our bodies, and can add so much to the poem's impulse and effect. And I can't help but notice that free verse has been pervasive during a time when Americans have taken to reading less poetry than at any other time in our history. There might well be a connection. Rap and popular music in general reminds us that readers enjoy language that moves in and out of recognizable form. That said, I love free verse and write it when the poem calls for it. I encourage poets to pay attention to the language of forms and to play with any and all approaches to our art. That way they'll know it when a poem is asking to be a sonnet or a mad song stanza, or a villanelle, or an elegy or a ballad or what have you. It seems to me that by limiting the tools in our tool box we are limiting our reach, our curiosity, our potential. We live, after all, in the world of form, so it seems strange to pretend poems, even free verse ones, aren't subject to taking form or embodying a palpable sense of motion.
KW: Two books on the verge, continued and growing presence in the poetry world: what 's next for you?
WV: Writing reviews and creative-non fiction and other kinds of prose is something I enjoy doing, (Paula Tatarunnis: and Virginia Hamilton Adair examples of some of my reviews). Writing prose is a kind of crop rotation, as Joni Mitchell would say, and really informs the harvest in ways we can't really measure. I have found that writing prose, as well as learning to paint and draw, have been really helpful, not to mention fun, along the way. I would like to eventually do another book of mixed genre works -- and I'd like to edit an anthology eventually. Thanks so much for this opportunity, Kathy, I've enjoyed it!