Colorado Poets Center E-Words Issue #7
Inside issue #7:
Abeyta and Keplinger in Southern Colorado
The Colorado Poets Center is eager to receive accounts of reading events in all parts of the state. When we asked what had been going on in southern Colorado, we got this report.
On February 11th, Aaron A Abeyta read to a full crowd of fifty-five students, faculty staff, and community members for CSU-Pueblo's Southern Colorado Reading Series. His laid-back delivery and casual introductions wove humor and serious subjects into his performance. He charmed the crowd with his varying rhythm and delivery, reading some poems with a rapid beat pacing and other with a slow calculated rate.

When introducing his poems, he reflected on his teaching, described his time in graduate school, and offered thoughts on the poems' origins. Abeyta described his drive to use metaphor, bringing together two or more unlike things in a creation of his poems. He demonstrated this concept with his moving reading of the poem "Cinco de Mayo," which described the shooting of a young man in a Denver Cinco de Mayo parade and visit to the Vietnam Memorial in Washington DC.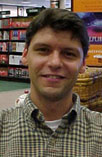 To give variety and to engage the audience further, Abeyta began taking requests from the audience with some requesting specific poems from Colcha, including "Zoot Suit Jesus" and another asking him to read a section from his novel Rise, Do Not Be Afraid. The reading ended with a book signing and left the audience wanting more, including an audience member who whooped and slammed her hands on the tables in celebration of Abeyta's poetry and words.
On February 20, David Keplinger conducted a reading of return. For the first time in two years, David Keplinger returned to CSU-Pueblo and read to a crowd of 75 students, faculty, and community members, leaving the OUC Cottonwood Room with standing room only. Keplinger treated the crowd to some old poems from his first two collections, The Rose Inside and The Clearing. Between poems, Keplinger discussed the genesis of poems, the intentions of them, and the way form drove them. Some stories were humorous while others described tender emotions felt by the author and communicated to the audience in poems like "Lorca's Passport."
After explaining the evolution and development of the form and organization of his latest, The Prayers of Others, Keplinger read several of these quick prose-poems that left the audience gasping their breath at the end of each poem as they continued to absorb the powerful images and rhythm. He closed the reading with some new poems from a collection in progress, which was followed by a brief Q&A session and book signing, concluding a successful homecoming for David Keplinger.