The Colorado Poet, #17, Winter 2012
THE SLOPE
A Lyric Scan Beyond the Front Range
By Art Goodtimes
2012 Western Slope Poet Laureate
A LITERARY CHRISTMAS … The Grand Junction-based Western Colorado Writers Forum put on an ambitious December performance this winter with music, song, poetry and recitations … I only caught the second half of the program, because the event overlapped a poetry reading at Grand Junction's Planet Earth & the 4 Directions Gallery the same evening by Colorado Mesa University professor and poet John Nizalowski accompanied on flute and violin by his daughter, Isadora Nizalowski (my god-daughter). A marvelous family pairing with John declaiming his poetry like the neo-beat he is, and Isadora sensitively matching her dad's words with lyric music. Nizalowski has a new book out from Turkey Buzzard Press in Denver, The Last Matinée.www.gjfreepress.com/article/20110722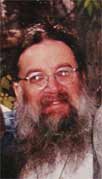 ENTERTAINMENT… I didn't get to hear Jill Burkey read Christmas poems from the amazing Rosemerry Wahtola Trommer of Placerville (who also has a new book out, The Miracle Already Happening: Everyday Life with Rumi (Liquid Light Press, 2012)
http://liquidlightpress.com/rwt.htm). Nor did I catch Frank Coons recitation of the Dylan Thomas classic, "A Child's Christmas in Wales" … But I did hear Luis Lopez's wonderful story, "A Cardboard Christmas Tree" and the two Grand Valley lyric masters, Wendy Videlock (doing her own "Comfort & Oy" and "The Juggler from Ganndaleen – the latter in a broad brogue) and a wildly decked-out Danny Rosen doing Carl Sagan and Richard Wilbur … A great evening.
LANGUAGE OF THE LAND … A 24-minute video of the Writers' Forum's fall conference is available on line. http://vimeo.com/34622096
TALKING GOURDS … As an event, Talking Gourds has been around since 1989. Mostly in or around Telluride, although there've been Talking Gourds gatherings up on the Uncompahgre Plateau, at the Reinchantment Lodge in Norwood, at Rockmirth in New Mexico and near San Miguel de Allende in Mexico … In its latest incarnation, it will be a monthly reading series on the first Tuesday of every month at the Wilkinson Library in Telluride that will be live-streamed to libraries around the region on Telluride TV and will become a for-credit poetry class through the University Centers of the San Miguel. Open discussions of the readings are slated for the morning after at Between the Covers Bookstore in Telluride … Ellen Marie Metrick of Norwood (see below) was the first reader in January, with Kierstin Bridger of Ouray slated for February, and David Feela of Cortez and Jack Mueller of Ridgway in line as future readers.
NORWOOD … This bifurcated community – half New West satellite to resort town Telluride and half Old West ranching village – boasts a monthly Talking Gourds reading series, with featured poets and gourd circle readings where everyone gets a chance to speak/perform. Ellen Marie Metrick, San Miguel County's Poet Laureate (2011-12), is the hostess for the series, and the hosting organization, ACE. The series occurs on the fourth Wednesday of the month at 6 p.m. at the Livery. http://aceofnorwood.org/
MONTROSE LIBRARY … Librarian Meg Nagel sponsors open mike fireplace readings for poets at the Montrose Library, one coming up Wednesday, Feb. 1 at 7:30 p.m.
IT'S A BIG SLOPE … Poets, help me keep track of the events and books coming out of our  literary scene from Steamboat to Durango. I'm headquartered in Norwood, and I work in Telluride – so that's my narrow focus. I try to stay in touch with stuff around the region. But I need your help … So, email me a paragraph or two on all things poetry in your area, so we can keep poets around the state updated on what we're all up to … gourds@palehippie.com