Updates and News about Readings and Poetry Awards
Congratulations to the eight students at Greeley West and Greeley Central who won the Robert W. King Poetry Award this year. The students are:
Special thanks go their sponsoring teachers: Mr. Flores, Mr. Frasier, Mr. Lothspeich, and Mrs. Winter.
Thank you to our many donors!!
https://coloradopoetscenter.org/award/
Upcoming CPC Activities
Virtual Poetry Reading
Hosted by Serena Chopra
LGBTQ Poetry
Thursday, September 29, 2022 7:00 pm Webinar
https://us06web.zoom.us/webinar/register/WN_J3QKmG7-SouLO1zGNlnJG
If you wish to be considered for the reading, please submit your poems to Serena by September 5 at Serena.R.Chopra@gmail.com
Colorado Poets Center Presents Expansive Poetry: The StoryTellers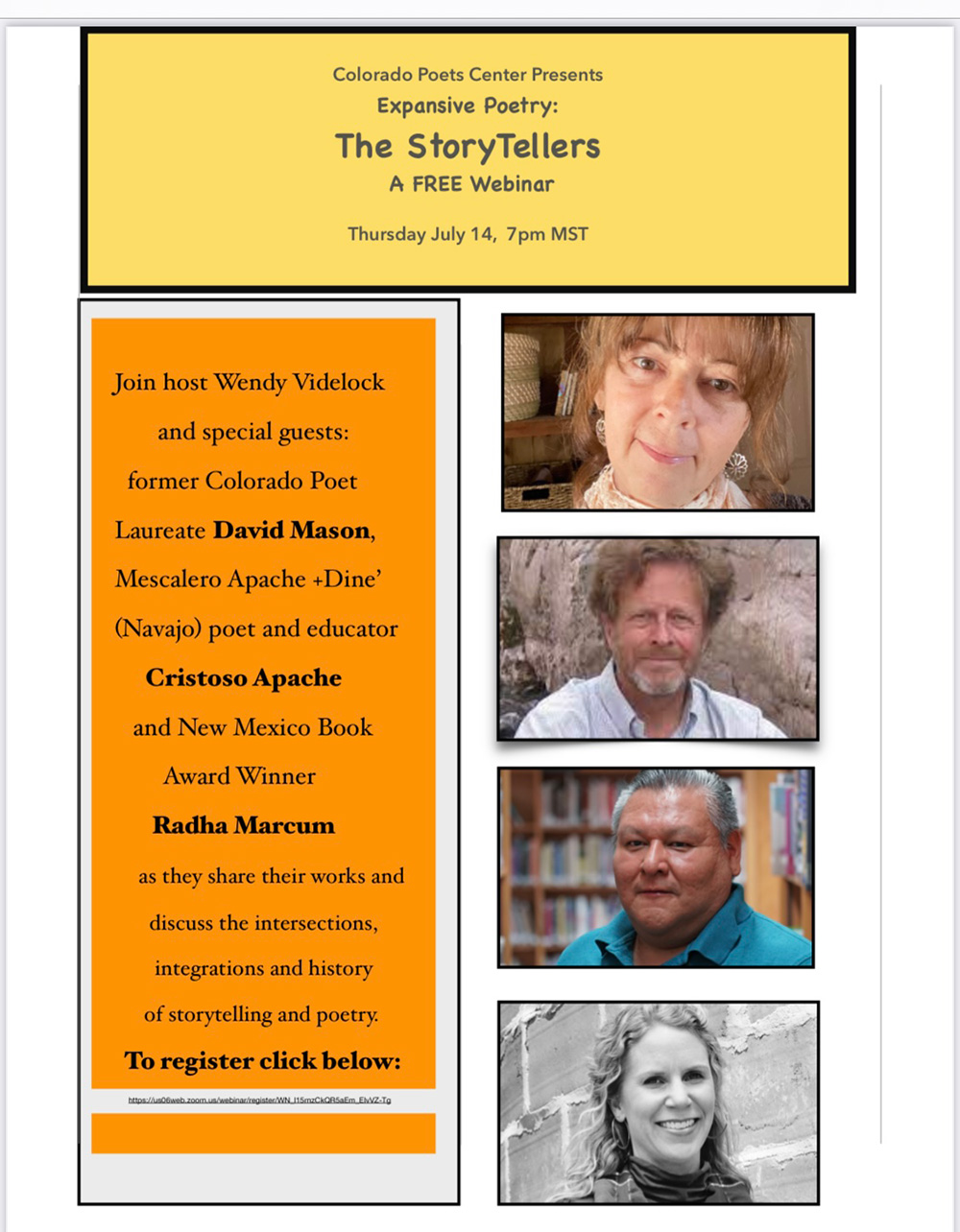 Live Poetry Readings at the Boulder R Gallery and Wine Bar
David Perkins Tuesday, July 19
Judyth Hill Tuesday, August 16
Enrique Bernales Michael Knisely September 20
DONATIONS TO THE COLORADO POETS CENTER
PLEASE CONSIDER MAKING A DONATION TO THE CPC TO SUPPORT THE WORK OF OUR WEBMASTER, POETRY READINGS, POET INTERVIEWS, AND THE ROBERT W. KING AWARDS. HERE IS THE DONATION LINK ON THE CPC WEBSITE. THANK YOU !!!!!